Welcome from Hon Alden McLaughlin, MBE, JP, MLA
Premier & Minister of Home Affairs, Health and Culture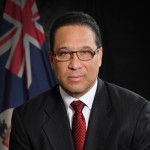 I welcome each of you to the Cayman Islands and this seventh Cayman Islands Healthcare Conference.
I find this year's theme "The Chapters of a Health Life" particularly appropriate as the Cayman Islands continues to grow and expand in the field of healthcare, allowing us to ensure that we can take care of all persons at each stage of their life.
By bringing together experts from a variety of fields, we aim to provide our local medical and healthcare professionals the opportunity to develop their knowledge to ultimately create a better experience for their patients.
This conference also offers a wealth of knowledge to members of the community to educate themselves on ways to support their health and wellness, or the health and wellness of their families and clients.
It is my sincere hope that everyone walks away from the conference with the knowledge they have learned something they can put into place, both at work and at home, to ensure the wellbeing of those around them.