LIVESTREAM powered by

Watch the recorded livestream videos here
Welcome from Hon Dwayne Seymour, JP, MLA
Minister of Health, Environment, Culture, and Housing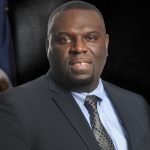 It is my pleasure to welcome you to the annual Cayman Islands Healthcare Conference.  This year marks a milestone for the Ministry, planning Committee, and various stakeholders as we celebrate the tenth anniversary of the event.  Anyone who has had a role to play in the staging of the conference over the past decade should be both proud of this achievement and congratulated.  It demonstrates a commitment to providing and embracing education, awareness and innovation as it relates to health and wellness.
This year's theme – "Innovating the Future of Healthcare: Building on a Decade of Progress" – speaks to the important advances that are being made each day in the global healthcare industry, while reflecting on the significant accomplishments that have been made in the Cayman Islands over the past ten years.  I look forward to hearing just how far we've come as a nation, as well as learning more about ways to continue on the successful path that has been paved for us by the hard work of many medical and industry professionals.
The Healthcare Conference offers opportunities for dialogue, debate, inspiration and education among members of the medical community and the public it serves.  Forums such as this provide vital knowledge and tools to patients and medical professionals which they can use to make informed decisions that not only benefit them personally, but ultimately impact the overall health of the country.  Therefore, I trust that each of us will take advantage of the chance to engage with some of the industry's leading experts and come away with a renewed commitment to healthy living.